sunday 27 december

This month's article is less about skating - more about developments concerning a certain longtime skater friend... ;)

Ex-Flipside owner Adam Walder is getting married to his longtime girlfriend Sophie - and Flipside riders Josh Newman, Paul Nash and I were invited to his surprise stag do down in The Old Mill near Fowey, Cornwall.

Adam's best man Krys Bascombe (owner of the Good Old Boys brand) organised a top-secret stag party in this fantastic location, selecting friends from Adams past, including friends we had previously met like Char Holmes, and many we hadn't - such as Adam's dad Adrian.

We spent 3 days in this fabulous location - a famous retreat with integrated music studio, having been used by all manner of famous guests and recording artists before us.

The mill had no road access and required us to use the river as our primary mode of transport, equipped with 2 speedboats to help us explore the remote location and venture into Fowey itself.

While not so beer-soaked as to ensure amnesia for all, Adam received the obligatory stag challenges and duties, and we all had a thoroughly good time - and no one fell overboard, and no search parties required! :D

A great time - made many new friends, and learnt that pidgeon breast tastes just like steak! Thanks for the culinary experience, Box! ;)

Turning to home matters - little Violet is growing up fast! Now a bundle on interactive energy, and it is fantastic to be a part of her life as she experiences new things and learns more day-by-day.

CJ and I are taking her for more active adventures now (relatively speaking!), so longer walks, beach trips and more missions out are the order of the day!
She is always so happy she takes it all in her stride and relishes being outdoors. Good girl! ;)
We wanted to make a big deal of her 1st birthday, so we hired a bouncy castle, soft play equipment and ball pit - and invited loads of her friends and family to come and help her celebrate!
The weather held out, and we *just* managed to fit the bouncy castle into the garden, and all the toys and play equipment onto the patio - loads of her friends and relatives came around and she had a lovely day wreaking havoc in her element, so a massive thanks to all who made her 1st birthday so special! :)
One of her birthday presents was a photshoot to document her at the end of her first year - we used the same photographer we had used for the previous shoot, but now Violet is so much more mobile, it opened a world of possibilities not available to us before.
It was a lovely shoot, perfectly documenting her character and development at this milestone in her life... :)
Nearly at Christmas time - and just before Santa forced his way down peoples chimneys, there was one more event on the skate calendar - Adam Walder's marriage to his fiance Sophie!
Adam had chosen Rhinefield House in the New Forest as the venue, a fabulous location set in acres of beautiful New Forest countryside. It is the jewel in the crown of the New Forest, and all the usual suspects from the stag party were there to celebrate it with them - and many more besides!

The stunning Tudor and Gothic architecture gave a fairytale atmosphere backdrop for the ceremony - a perfect winter wedding!

Krys and Char as best men were hosting the proceedings with plenty of stories and laughs - its was a great evening with friends, celebrating Ad and Sophies marriage in such fine style!

Congratulations to you both!

And on to Christmas - I hope you all had a fabulous xmas, and are planning a debauched New Year!

Roll on 2016! :)

saturday 12 september - CJ's Birthday! ;)

Back with a skate-heavy article - the South Coast Streetboarders collective has grown!

Been skating with Lewis quite a lot recently, and celebrating the return of ex-Flipside rider Josh Newman, who has returned to live in Southampton!
Mainly evening skates, and often in Prevail, we have been pushing each other to ramp up the tricks on the rails - the small "shotgun" rail at Prevail is a great place to learn new tricks - it's small enough to allow falls without worry of getting tangled in the rail, but long enough to know you locked and held the trick...
Everyone has different tricks nailed, so its great cross-training as we are pushing each other to improve our weaker areas! The training continues...

We have skated Crossways on the way to Dorchester a few times recently.
Close to Pat and nearer for Rob, it's a funny little park with only a few features - it's a place to session stuff rather than expect long flowing lines, but it forces you to vary your tricks and up your tech game...
I went there with James and Tim's friend Rob, and came away with some good media - Rob blasting some big backside 180s out the bowled quarter, and forging some strong combo's on the manual pad - including a cab smith revert 360 landed and ridden away so smoothly as to be the very essence of the trick definition...
The transitions are very tight, and you have to vary your riding style to accommodate the small size of some of the curves there - its a park you either love or hate, but it's a useful little addition to the collection of spots we have here to ride...
I drove to Reading to hook up with Day One owner Colin Horan for a day's riding at Sol Joel skatepark, and though the weather was super misty, we both managed to get some decent lines down and get some pretty rad slomo footage!
A great day - despite the conditions - and thanks to CoHo on the Trigger for the edit!
In news nearer home - the council has funded a park just around the back of me in the Bourne Valley nature reserve. Built by Maverick it contains a street section, transition section and bowl.

Andy Garett came down to join me for my first visit there - we stuck to the steet section and quarterpipe extension in the bowl.

The street section with flat bar rail, C-ledge and hubbas, next to a transition section with spined mini and launch box, and a triangular bowl at one end Dorchester-style.

Unfortunately the launch box has the classic Maverick issues of inadequate run-in and being too whippy, and the triangular nature of the bowl means it is more difficult to get good lines there - and people randomly enter from the street section which can be hazardous if you are riding it already!

Its a slightly curious park which at first seems to not flow properly, but makes more sense when you hear that they received more money halfway through and tacked an extra bowl on one end - meaning that its current format was never designed as a single unified whole and this shows in the disjointed flow...

Overcrowded by kids from the local estates, I have had a collision with a mountain biker on another occasion - resulting in a leg injury that meant 3 weeks off skating - and this, combined with the average nature of the riding experience, means that although it is only about 500m from my house - I probably won't be using it that often which is a shame.

And last but not least - Happy Birthday CJ! 21 again today! :D xxx

saturday 29 august

I hosted my customary Birthday Bash in New Milton skatepark this year, joined by fellow streetboarders Colin Horan, Paul Nash, Andy Garett, Tim James and James Kelly.

New Milton skatepark had only just opened a couple of months before - the most notable feature of this Maverick-built park being the "concrete wave" stepped rollover, located in the corner.

There's a kidney-shaped bowl at one end and the rest is split into 2 sections, including a step up lunchbox, street section and wide quarterpipe at the far end. The street section involves a rather nice down rail, hubba, plaza steps and euro gap.

Colin, Paul, Tim and James started the day in the bowl - Paul was trying long noseslides round the coping, Colin and Tim were throwing various airs off the hip of the kidney bowl, with James doing his trademark 180-noseblunts.

Andy worked his way around the park from launchbox to vert wall and grass gap to concrete wave, going huge with his signature bir air style before getting inverted in the wave...

I spent much of the day in the street section on the rail and the nearby quarter before I was joined by Colin and Andy, riding the concrete wave and throwing combo's down some of the long grindboxes beneath.

We all agreed that Andy comprehensively won the day's best trick with either of 2 massive tricks - initially blasting a huge air over the grass gap, before throwing a huge rodeo flip in the concrete wave...

Legendary stuff...! ;)
It was a great day spending many hours riding hard with friends and getting some footage down, cut all too short by the necessity to be home for the next part of my birthday - the BBQ! :D
The lads stayed the night, but everyone was too knackered and sore to skate next day, so people had a big breakfast and eventually went their different directions...
On a completely different subject, I feel I should talk a bit more about little baby Violet...

Violet has been growing up quick as children do, learning new skills and developing day by day - a far cry from the tiny infant of the first couple of months! She is very happy and inquisitive, and loves her bouncer and getting out-and-about, visiting parks, baby classes, swimming - all the things a child should!
CJ & I both feel very lucky to have such a gorgeous, happy, healthy little bundle of energy, and are loving parenting - the good times and the bad ;)
We all went for a long weekend with Rich and Lou down to north coast of Devon, sleeping in slightly-oval wooden huts with no elecricity, in a field on the exposed clifftops inbetween Delable and Port Isaac.

We had a good day exploring Port Isaac and walking the coastline there but the onset of a prolonged bad spell prompted an early return home - but it was good to get the vans doing camper duty again...
A week later, I called Flipside Boards founder Adam Walder and rider Paul Nash with the idea of checking out the newly-opened skatepark over in Andover, and we headed there for afternoon skate.
Essentially rectangular, it features a step-up launchbox, bowl spined to mini, hubba, flatbar handrail, battleship rail over driveway, gap with large ball feature and c-block.

The sun beat down relentlessly as we rode the park, making for a roasting skate with all the reflection off the fresh 'crete..!

I started on the hubba and rail while Adam and Paul rode the mini and the bowl, everyone pulling bangers out the bag before moving on around the park...

It always amazes me how Adam can just jump on a board after months off, and bang out smooth tricks like he's been practising all week. Astonishing! ;)

There were far fewer people at the park this time and the average age was older than the kidfest we had expeienced previously at this park, and it was good to be able to ride without having to constantly be on the lookout for errant kids...

The c-rail was a regular feature, gentle enough not to throw you off balance and allow balance for combo's. Adam was using the quarter at the end for frontside airs, Paul manual-ing the driveway and I tried Miller Flips over the rollover.

Was great to see the guys, especially Adam as it had been a while, and get riding like the old days on such a fabulous day! Classic.

And finally, I have noticed that this blog is now 10 years old! 10 years dedicated to bringing you quality content from our part of the streetboarding and snowboarding worlds :)

You lucky people! ;)

tuesday 30 june

Earlier this month I checked out Andover skatepark with Tim James and Simon Johns, and what a sweet little park it is.
With an unusual street section including a driveway with gap ball feature, long curved ledge, step up, 3/4 bowl spined to mini, flat-down hubba and a flatbar rail its a great set up.
The location being a natural suntrap, and its almost perfect - almost. Apparently Maverick tried a different surface when they constructed this park, and the resulting finish is very slippy - its very easy to slip out with an overzealous movement or if spinning on landing.
In other matters,on the Saturday 2nd May Pat Murray & I had the pleasure of attending the LDNcalling skate tour - a group of international riders hitting street spots and parks across London organised by Colin Horan .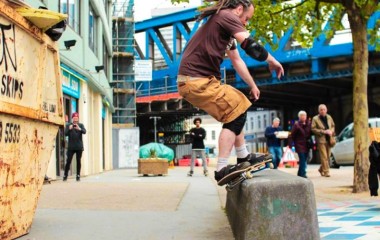 We met Southampton rider Lewis Langford at Southbank, and spent a few hours sessioning the blocks there - Pat snapped a bar upon arrival, but we sorted him out and set about riding with Sergi Nicolas, Tony Alvarez, Colin and the other guys...
My little neice Camille had a birthday meal at my Pa's house in Salisbury, so CJ, Violet and I drove over with Mum for dinner.
We spent a lovely afternoon with the family all together and it was great to see Violet and Camille spending a bit of time together.

I was in Sainsbury's car park, and saw this most unbelievealy tame little fox just wondering around looking for food between all the parked cars.

I tried offering it some jelly sweets and it trotted up and sniffed my hand, before turning around and searching elsewhere - it clearly didn't fancy any high-sugar pork gelatine-derivitive that I had to offer ;)

Well summer's rolling on, so I'll see you all soon...

wednesday 29 april

To combat the post snowboarding blues I have been skating a lot recently, learnng new tricks like backside hurricanes and blunts.
Although the weather is getting better, it's still dark in the evenings - so most of the time we skate at Prevail after work after in the evenings.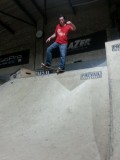 Pat has been honing his skills, learning a bunch of extra tricks and showing significant improvement to his control.
Tim is ripping round the mini, building long lines with every conceivable grind and slide, and throwing long manuals across the driveways in the street section.
Rob comes over from Yeovil quite often, bringing his snowboard style of spins and butter-inspired street combos such as 180-switch-manual-180-out.
All in, theres a lot of different styles going on here, which is great for creativity - always bouncing ideas off each other and raising the bar.

I saw these kneepads for sale and just had to get a pair.
They have a flexible protective cap made from D30, the material that goes hard on impact - giving the best of both worlds as they protect without hindering movement like conventional pads,
I look forward to reporting how they perform in the line of duty, and whether D30 might be the future in persnoal protection gear
Until then, take care...