wednesday 21st january 2014

Happy New Year readers! Here's hoping 2014 brings whatever you want from life ;)
Most recent news this year was an unexpected surprise in the form of a couple of visits from my good friend "Tassie" Ben Newman - a major contributer to the mayhem both years in Wanaka, NZ.
CJ was browsing Facebook, and happened to notice that Ben had posted a picture of the New Forest - odd, we thought, and upon following this up it turned out that Ben and his girlfriend Adele were visiting her family, who lived just up the road on the other side of the forest!

So after a flurry of messages back and forth, Ben duly arrived in Bournemouth to grab some beers at the Christmas market, check out Bournemouth and skate Prevail.

It was awesome to see Ben after a gap of seven years, the last time we were skating at Benmore dam just before he left.

We chatted about friends and what we had been up to in the intervening years - it felt like it was only a few weeks since we last saw each other. Good times :)

The second time, Ben came over with Adele and her family to celebrate his birthday with a meal and drinnks in Bournemouth, so we went out to Wagamamas, drank Saki, and went for drinks at the pub. Adele is very chatty and amiable, and it was great to see them before they left the next day, returning to Oz to move into a new place near Manley in Sydney.

What a great start to the new year! :)

In November, I arranged a meet-up at Prevail with fellow streetboarders Paul Nash, Andy Garrett and Flipside's Adam Walder joining local riders Tim, Pat and I.

It was quite a busy evening at Prevail with loads of BMXers congregating in the street section, so the riding was cencentrated on the 3ft mini, the main bowl, and the foam pit.

It was the first time that Tim and Pat had met Paul and Andy, so I had asked local rider J Adams (who owns Smoking Aces bar in Bournemouth) to reserve us a table - and we spent a few hours drinking in town afterwards together, Pat eventually getting home near Dorchester just before the sun rose... ;)

November and December were unseasonably mild, and a combination of good weather and Christmas exhibitions in the Bournemouth Gardens provided a plethora of photo opportunities.

In the run-up to Christmas, I have seen my little neice Camille a couple of time - once for her birthday, and once at Christmas. She has grown up really fast over the last few months - now walking and talking, and the icing on the cake was the last time I saw her, she said my name!

In other news, one double-edged sword on the horizon is the news that my left wrist is going to be operated on at the beginning of March... Probably the right decision for the long-term, but in the short-term it means no skating or driving for 6 weeks after :(

Still, if it strengthens the wrist, and staves off arthritis - its probably for the best...

But, back to the now, I am in Chamonix snowboarding for the last 2 weeks of January, being joined by long-time friend George Moy for the second week - so hoping that the mild December won't have compromised the snow base-layer too much, and we can get some decent riding in, and some good footage down...

So until the next time, keep it real, and enjoy 2014 :)

wednesday 9th october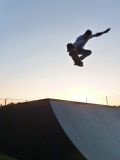 Recent laptop death has delayed this streetboard report, but I'm glad to say that the summer has been a productive one :)
One of the best summers in recent memory meant that we have been able to get get out regularly in the evenings and streetboard - we have taken advantage of the opportunities to get the hours in..!
The skating has mainly focussed on minipipe and manual blocks - although we did visit Bransgore early summer for some light launch box relief...
Prevail Skatehouse, West Moors skatepark and Upton all have relatively low mini's, great for learning smaller, tech tricks - so we've spent all summer building our repetoir with tricks from simple nosestalls to 180-noseblunts, to switch-270 backside nosegrinds!
Earlier in the summer, CJ and I took a long weekend break in Bude, just to get away from Bournemouth for a weekend.

Bude was a victorian holiday resort, and they built a seawater pool that refils every high tide, releasing the water over the next few hours.
A shchool of jellyfish had been blown in from sea by a storm, and they were washed up in the pool - plate-sized rubbery things, very bizarre.
Bude is a lovely place to visit and relax, with loads to see including the castle (with folly), the "Bude light" column, canal, beach, surfing, and lots more.

The early summer provided some great riding opportunities with Jon and Duncan, including one memorable ride with Paul.

It was a late night ride at Canford Heath, with the boys hitting some jumps before night fell and we resorted to another 2 hours navigating by headlamp.

During our skate expeditions, we revisited local West Moors skatepark - a second-generation tarmac skatepark with metal ramps. The tarmac has remained usable, and it's not a bad design, with a street section comprising of a driveway with shotgun rail, spine, and launch between two quarters - one with integral flatbank-to-step.

And a mini. And what a lovely little mini it is too - metal with an extension on one third of one side. It's a touch higher than Prevail's, but its a sweeet little halfpipe - we spent a good few sessions riding there - and theres the bonus of very few people using it :)

I heard from my friend Damian Tweddle (from Wanaka 2005 & 2006 seasons) over the summer - Damo has a girlfriend who lives in Oxford, so spends his time between the UK and Australia...

Damo had been doing some festivals, so I arranged to hook up with him after festival season had finished - we met up in Oxford and spent a few hours skating the Oxford Wheels Project skatepark...

I spent a awesome day with Damo, riding the park for about 3 hours, followed by an expedition into Oxford itself for a pint and a bite to eat - with 7 years-worth of living to catch up on..!

It was brilliant to see Damo, his infectious enthusiasm perking up what had started as a relatively slow weekend :)

So the weather has now taken a big change for the worse - the rain pelting down as I sit here writing this!

Tim and I are looking to start filming shortly, and get some lines down on film for an edit - just waiting on Jay Nowman to send the camera now...

tuesday 30th july

Computer issues have delayed the release of this article - but it's finally here.

Fellow UK streetboarder Alex Wheeler sadly passed away last week, after battling cancer for two years - extremely sad for a young man in his early 20's. Alex was an awesome streetboarder, a core part of the UK scene - he will be missed by everyone who met him...

Since early June, skater/photographer James Kelly & I have been trying out different camera set-ups to produce different compositions, long distance, reduced depth of field, etc.

I wanted to get some photoshoots done in specific locations - the rail at Hengistbury Head isn't big (find me another ;), but the backdrop of the Needles makes it a great photo opportunity. After waiting for the right conditions we managed to get some shots down early on a Sunday morning in June...

Ironically, the weather has been so awesome it's actually been too hot to skate much of the time - so the beach has been the order of the day, with lots of weekend sunbathing, frisbee, picnics and beach BBQs :)

Bournemouth skater Tim James & I spent a day out and about locally, scouting for new skate locations - and managed to come up with 3 new ones, which isn't bad for a days work..!

Verwood skatepark extension, Crossways near Dorchester and the local Upton mini - while none of them are massive, each has something interesting which we can hit up...

My brother Jules celebrated his birthday with a big BBQ at his house, so Gorgeous George Moy & I drove up to represent the Bournemouth contingent.
We spent the day relaxing in the sun, eating a huge amount of meat that Jules had smoked to perfection on his bbq...

On the way up I saw the most unusual sight - a life-size silver elephant strapped to the back of a lorry motoring up the A3...

Not something you see every day..!

CJ & I have been making the most of this fabulous weather, exploring the locale.

To my surprise, we came across a wonderful lake just over the road from us in the Bourne Valley Nature Reserve - how I have never noticed it before is beyond me..!

It was abundant with wildlife, and a huge dragonfly landed right by us to bask in the sun - allowing a few moments of inspection before it flew off.

The weather now seems to have broken for the time being - it's a little cooler, and loads better for skating, ie. you don't have a migraine within 10 minutes.

James Kelly has his new board - so we should be getting more photos and footage down shortly, visiting the new parks we have found plus a couple of handrails I have been looking at...

So enjoy the weather, kick back, relax and we'll be back with more skate news soon...

tuesday 28th may - the 100th article!

It's been a while since the last article, and a lot has happened!

We are now easing into familiarity with Prevail - figuring out the best lines and spots we like to spend our time at.
The wave lip in the street section pops you into the air, good for lofty airs and spins - Max Anderson has even backflipped it..!

I have excitedly bought myself a new set of bindings, my first since 2008..! The 2013 Union "Contact" in bright green/rasberry, clashes perfectly with my board ;)
CJ and I set off to Chamonix for another couple of weeks at the end of the season...
Our friend Cecile Ingenbrand drove over from Chatel near Morzine to spend the day at Grandes Montets - unfortunately it was a whiteout day, but we still enjoyed blasting down the pistes at breakneck speed - brilliant :)

Back in the UK I have been eyeing up the Pavilion stairs for a wallride.
The run-in proved lethal, and about 4 or 5 times I wound up taking a huge spill just before the ramp, but got some shots down as the light faded.
With improvements to the run-in, I will be looking to get higher later this summer ;)
I took CJ just down the coast to Hurst Castle, and we spent a lovely afternoon walking along the spit and exploring the castle...
Henry VIII built it in 1541 as part of a chain of defences against the French on the South Coast, and it has been built upon over the years until the it was decommissioned after WW2 - and now remains open to the public.
A great day out, exploring the original castle with keep, and the later modifications including the 38-tonne guns in their concrete casemates.

I have updated the wheels on the TVR, now it runs 17's on the front and 18's on the rears.

I have taken the opportunity to put wider rubber on tthan previously, it's now shod with 235's on the rear for extra traction :)

So thats about it for now - James wants to get into taking photos, so hopefully we'll get some decent weather to take some good shots.

Back soon.

28th february 2013

Just returned from an awesome skiing trip - massive powder riding in France and Switzerland in two totally different flavours...

I journeyed out to Chamonix and hooked up with my dad Tony, acclimatising for a couple of day in Chamonix before we started an epic powder tour in a big loop across Switzerland from Leysin...

2013 Switzerland Powder Tour article & image gallery

It was an unbelieveable experience riding unknown terrain with Tony & the guys, and we were so lucky with the weather - but all things come to an end, and I was soon heading back to Geneva Airport to meet up with CJ, to return to Chamonix.

CJ & I had a great few days in Chamonix - although the weather was a mixed bag, it brought deep powder that gave us 2 awesome days riding at the nearby mountains.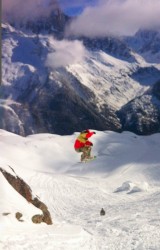 We met Andrew Szabo on the bus - an aussie in town for a few days, he joined us next day at Brevent.
Restricted runs meant we had to explore - we found powder stashes leading to a bowl with boulders strewn around, providing the scope to carve, drop and jump until we could barely move. Time to go back for a Baileys coffee..!
On our third and final day, the sun came out to reveal a blanket of thick snow, and we raced out to get first lines - straight into our first big lift queue of the holiday! :(
We got out the Flegere cable car into bright sunshine, met up with Andrew and got on with the business of riding big powder faces ;)
As the day wore I I started pulling out all the stops, going into the gulleys to find big drops. Found a couple of 25ft drops including a cornice and a huge boulder, so spent the day bombing powder runs with the wild abandon that only deep powder brings..!
CJ & I had another fabulous meal in La Nationale - our favourite restaraunt in Chamonix, on the main street through town. Tony had told me that when we first started coming to Chamonix in the late 70's, La Nationale was the best restaurant in all of Chamonix - I can quite believe it...
We had a final drink in Terrace, the wonderful wrought-iron building that overhangs the river just up from the apartment, we bid farewell to Andrew then went back to pack and go home.
Another awesome holiday out in Chamonix ;)