28th february 2013

Just returned from an awesome skiing trip - massive powder riding in France and Switzerland in two totally different flavours...

I journeyed out to Chamonix and hooked up with my dad Tony, acclimatising for a couple of day in Chamonix before we started an epic powder tour in a big loop across Switzerland from Leysin...

2013 Switzerland Powder Tour article & image gallery

It was an unbelieveable experience riding unknown terrain with Tony & the guys, and we were so lucky with the weather - but all things come to an end, and I was soon heading back to Geneva Airport to meet up with CJ, to return to Chamonix.

CJ & I had a great few days in Chamonix - although the weather was a mixed bag, it brought deep powder that gave us 2 awesome days riding at the nearby mountains.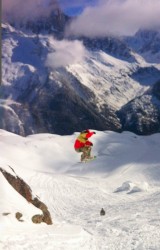 We met Andrew Szabo on the bus - an aussie in town for a few days, he joined us next day at Brevent.

Restricted runs meant we had to explore - we found powder stashes leading to a bowl with boulders strewn around, providing the scope to carve, drop and jump until we could barely move. Time to go back for a Baileys coffee..!

On our third and final day, the sun came out to reveal a blanket of thick snow, and we raced out to get first lines - straight into our first big lift queue of the holiday! :(

We got out the Flegere cable car into bright sunshine, met up with Andrew and got on with the business of riding big powder faces ;)

As the day wore I I started pulling out all the stops, going into the gulleys to find big drops. Found a couple of 25ft drops including a cornice and a huge boulder, so spent the day bombing powder runs with the wild abandon that only deep powder brings..!

CJ & I had another fabulous meal in La Nationale - our favourite restaraunt in Chamonix, on the main street through town. Tony had told me that when we first started coming to Chamonix in the late 70's, La Nationale was the best restaurant in all of Chamonix - I can quite believe it...

We had a final drink in Terrace, the wonderful wrought-iron building that overhangs the river just up from the apartment, we bid farewell to Andrew then went back to pack and go home.

Another awesome holiday out in Chamonix ;)

20th january 2013

Happy New Year to you all! Hope you are enjoying this rare but seasonal snowfall..!

So the big news this year is that Prevail skatepark in Poole has opened, just out the back of my house... Awesome ;)

They couldn't have done a better job to be honest - every transition is perfect, every line gives the maximum opportunity for variation, and there are none of the "dead sports" so often present in skateparks where the last little bits didn't match up...

It even has a foam pit and a rainbow rail - what could the practising snowboarder ask for..?! So I have spent a load of time in the foam pit (visible in the panorama below, far left), the perfect practise for the upcoming snowboarding holiday in Chamonix...

In the panorama above, you can see the foam pit far left, the street section mid-left, the blocks and rail mid-right, and the launch boxes far right...

Prevail is already proving very popular with the Day One streetboarding crew, who have already been down more than I have - so watch this space for lots of indoor skate action throughout this year!

On a slightly lighter note, I saw this guy busking in Bournemouth just prior to Christmas - and had to share it with you...

His technique mixes hammer-on, pull-off guitar fretwork, with striking the strings and the soundbox - to create tunes with a hybrid sound unlike anything I hvae heard before... Enjoy!

So I'm off to Chamonix soon to join my dad and his friends for a 7-day tour of the mountains around Leysin, spending a day in each resort before ski-touring to the next - before returning to Chamonix to meet up with CJ for a few days... The weather should be epic, and it's a once-in-a-lifetime trip, not to be missed!

Enjoy the snow, and I'll be back shortly with a holiday report from Chamonix :)

31st november

The 2012 UK Nationals went off with a bang, Adam Walder and I spending a long day driving north of Bristol, skating and seeing the streetboard fraternity - before turning around and heading home.

It was a great day, and we were all treated to spanish streetboard champion Sergi Nicholas presenting the UK premiere of the new Drop Inn team's movie "Drop This". A professionally filmed feature-length skate movie, the size and complexity of the tricks are a credit to the team's riding and great promotion for our sport...

With inclement weather precluding outdoor riding much of the time, I have been making the most of Hemel trips with my brother Jules and friend George Moy.

Jules was on his new twintip skis and was landing 360s on his first day - fast work ;)
It also turns out that local ski slope Snowtrax (ex-Matchams Ski Centre) has re-surfaced the slope with Proslope's ProSno matting which is supposed to be a marked improvement on the old Dendex - so we will probably go check out their Sunday Ramps & Rails sessions over the next few weeks...

Bournemouth rider James Kelly is back riding again, after dislocating his elbow earlier in the summer..!
I finally managed to catch this picture during a skate after work, trying to time it right with my phone camera's 5 second delay - nosegrind at Kings Park.
We're looking forward to the impending completion of the Prevail Skatepark, which will be within a mile of my house :) the perfect remedy to long wintery mights!

But the really big news this month is the birth of my niece Camille! Jules is a dad! Congratulations Jo & Jules!

CJ and I went up to visit Jules & Jo at their home in Surrey, and met Camille - I held her in my arms and was genuinely surprised how heavy she was!

Everyone is very excited for them, so they have been busy seeing family members and friends for the last couple of weeks - I hope they are delighted, and wish them many happy years of family life ahead :)

We went to a good fireworks show at the Littledown Centre in Bournemouth, ¼ tonne of explosive apparently!

Stormy weather here now with lots of flooding, but the anticipated opening of Prevail Skatepark is only a couple of weeks away - so soon it won't matter :)

30th september

A disappointingly wet summer, compounded with wrist issues, has meant relatively little skating over the last couple of months.

However CJ & I decided to go to the Oporto Surf Camp in Esmoriz near Porto, Portugal - where the drink Port originates from! We had a week surfing the waves with some great people, with a little skate action to boot..!

I had hoped to visit a wonderful-looking skatepark that I had researched prior to going - a skatelite-type park just north of the city.
However the weather conspired against me and it rained for 3 days, so no go.

I did however manage to skate a park in Espinho, the next village and got a couple of shots.

The Oporto Surfcamp also had a number of boards for use, including some sweet longboards to cruise around on at lunchtime in-between surfs.

Our guide Sandro was a good longboarder, and I had the opportunity to board with him a couple of days later.

There were a number of different surf beaches, each with different geography that dictated whether they would be suitable or not, dependant on the weather conditions.

We surfed at 2 different beaches, one in the city of Porto itself, and the other at the edge of the jungle by Esmoriz.

We enjoyed some great lunches in-between surfs, including one memorable visit to a restaurant serving the local speciality - proper fried calamari straight from the ocean, tentacles and all!

We spend a couple of lunchtimes on the longboards - oSandro was quite a dab hand at skating, at one point hitching a ride off a Police van, Back-to-the-Future style ;)

On our last night the surf camp put on a BBQ for us, with "caprinha" cocktails and load of food and beer - and wehad a good last evening with our surf camp hosts and friends from the village...

But back to Blighty we had to come, back to the land of eternal rain - and just in time for the UK Open Championships...

But more on that in the next article!

30th july

Well, lots happened since the last article, the first being that I am now a year older! Happy Birthday to Me, etc ;)

I have finally met the "other" streetboarder in Bournemouth - will you plese stand up, Mr.James Kelly!

James is a good friend of Matt Griffiths and Pete Gaulton, and has recently moved into Bournemouth from Somerset.
We have skated together when the weather has allowed, and I have shown him some local parks.
While James's natural habitat is the halfpipe, he has started working on his grinds and tricks on the manual pads.
Unfortunately, we were taking photos at Kings Park, with James getting air over the hip when disaster struck!

James went bigger than before, throwing a lofty tailgrab and sailing up and over, to land on the flat beyond - and slipped out, putting his hand down only to dislocate his elbow...
He manfully braved it out down to A&E, where he was referred to Poole Hospital...
Two days later I got a text that he was just leaving hospital...!
He's doing well, and will hopefully be back and fighting fit in no time :)
It was Jules's birthday a couple of weeks ago (Happy Birthday Jules ;) and George Moy and I went up with him to try out Hemel Hempstead - as I'd heard so much but never been...
We went on a Saturday and there were only about 15 other people on the slope - perfect!
The slope was bigger than I had expected, about 100m long - and while there was only a tiny roller jump and a snow-level boxrail, it was just enough to keep us occupied for 4 hours!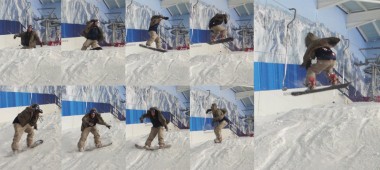 George is a very good skier with very good, precise style, and was bombing around or taking photos, and Jules was doing his first 180's on the mini-jump and claimed his first few railslides :)

We had so much fun, we have decided to go again this weekend and Jules is buying some twintip skis so he can land backwards properly

More on that shortly...

12th june - Jubilee Edition!

Weather has been on-off since the last article, but had some great days filled with skating :)

Starting hitting the handrail over at King's Park again, for the first time in two years...
Got 5-0's and boardslides again, but working on some new combo's.
Slow going tho', as there's no mid-size rail in the local area to work up on..!
More news once this bloody rain stops... (God save the Queen ;)